Peter Rotatori III Attorney Profile
PETER ROTATORI, III ESQ.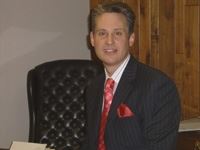 Peter Rotatori, III, firm owner, is a Stamford personal injury lawyer, arbitration and trial attorney with over 30 years of experience. He has represented clients in the following areas of law: civil personal injury law, automobile accident law, workers' compensation accidental injury law, workman's compensation repetitive trauma law,product liability law, product liability defective packaging law, medical malpractice, dental malpractice, nursing home malpractice, catastrophic injury law, real estate fraud, child injury law, dram shop liability, truck accident law, animal injury law, defective premises liability law and construction accident law.
Mr. Rotatori has employed years of dedication, high standards, integrity and excellence in the practice of tort law. His law office is located in picturesque Southbury, Connecticut. He practices in all Connecticut state courts.
Experience
Mr. Rotatori has assisted the following out-of-state law firms: Jones Day, Chicago, Illinois, Williams and Montgomery, Chicago, Illinois, Dougherty, Clements and Hofer, Charlotte, North Carolina and Roger N. Schumann, Esq. New York, NY.
Peter Rotatori, III has tried to verdict the following types of cases:
Get Started Now! We can help you fight for compensation, call for a free case evaluation!
Mr. Rotatori has successfully arbitrated the following types of personal injury cases:
Automobile High Speed Collision Personal Injury Liability
Contractor Against Homeowner Slip and Fall Premises Liability
School Bus Operator Third Party Personal Injury Liability
The Causation of Complex Low Back Spinal Surgery From an Automobile Collision
The Causation of Complex Cervical Spinal Surgery From an Automobile Collision
The Causation of Complex Shoulder Surgery From a Premises Liability Slip and Fall
The Causation of Multi Level Headache Disorder From an Automobile Collision
Personal Liability of a Physically and Mentally Disabled Minor Resulting in Catastrophic Injury
The following types of personal injury cases have been successfully resolved by Mr. Rotatori for his clients:
Workers' Compensation
Uninsured and Underinsured Motorist Law
Defective Product Hand Tool liability
Defective Product Liability Packaging
Defective Exploding Wheel Product Liability
Retail Store Customer Display Liability
Bicycle/Automobile Liability
Pedestrian/Automobile Liability
Dog Bites
Horse and Livestock Liability
School Bus Collisions
Burglar Alarm Failure
Real Estate Owner/Broker Fraud
Child Lead Paint Ingestion
Dram Shop/ Drunk Driving Liability
Falling Tree Personal Injury Liability
Large Volume Retail Store Premises Liability
Landlord Premises Liability
Construction Company Liability
Municipal Highway Defect Liability
Municipal Snow and Ice Liability
Gas Station Liability
Excavator Liability
Dental Malpractice
Medical Malpractice
Physical Therapy Malpractice
Elevator Liability
Ambulance Carrier Liability
Homeowner Trampoline Liability
High Impact Automobile Car Crash Liability
Low Impact Car Accident Collisions
Hit and Run Automobile Collisions
Catastrophic Personal Injuries
Complex Lumbar Spinal Injuries Requiring Fusions
Reflex Sympathetic Dystrophy Extremity Injuries
Amputations Requiring Prosthetics
Traumatic Brain Injury With Headache Disorder
Complex Shoulder/Rotator Cuff Injuries
Knee Injuries Requiring Knee Replacements
Complex Hand Injuries With Carpal Tunnel
Cubital Tunnel Elbow Injuries
"Soft Tissue" Cervical Spinal Injuries
Complex Foot Trauma Work Injuries
Insurance Coverage Disputes For Business Unfair Trade Practices
Underinsured Motorist Insurance Coverage Disputes
ERISA Equitable Lien Claim Disputes
Repetitive Trauma Police Officer Lymphedema
OSHA Construction Violations
Mr. Rotatori has served as a private personal injury arbitrator in civil personal injury cases. Mr. Rotatori can assist Connecticut Lawyers and their clients by way of private arbitration in the following types of personal injury negligence cases : automobile accidents, premises liability, medical malpractice, dental malpractice, wrongful death and uninsured/underinsured contract claims.
Bar Admissions
• State of Connecticut
• US Federal District Court, District of Connecticut
• Appeared Ad Pro Hoc Vica - United States Federal District Court for the Middle District of Tennessee
Education
• Wake Forest University School of Law, Winston-Salem, NC Juris Doctor 1988
• Case Western Reserve University, Cleveland, OH 1985 BA (Cum laude)
• Double Major: History and Legal Studies
• Holy Cross High School, Waterbury, CT 1981
Professional Associations
• Connecticut Trial Lawyers Association
• The National Trial Lawyers Top 100 Trial Lawyers (By invitation and nomination )
Community Service/ Religious Affiliation/Personal
• Past President of the Pomperaug Valley Kiwanis Club of Middlebury, Woodbury, and Southbury CT
• Member of Valley Community Baptist Church in Avon, Connecticut

Married to Elizabeth Hoyt Rotatori
Children: Grace Elizabeth Rotatori & Liam Peter Max Rotatori
Resident of Southbury, Connecticut
Hobbies: international travel, working out, golf and chess
Member: The Golf Club at Oxford Greens in Oxford, CT.